Mike's Home Page.
(The Simple Home Page)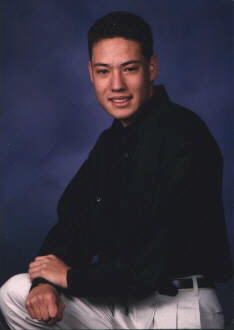 Created: 6-8-1997
Last Updated: 8-13-1999
(see Recent News)
Why "The Simple Home Page"? Well, because this page is. This is just a good simple home page with stuff about me. You won't find high-powered graphics, fancy schmancy 3-D animations, tons of superfluous links, and a bunch of extra-neato Java junkets. (This is starting to sound like a Motel 6 commercial.) Not that anything is wrong with super-nifty thingamajigs, but they do take time to download, and that can be annoying for you web surfers. Plus it is harder for me to do all that stuff, and I'm lazy. However, you have to cut me a little slack, here, because this is my first web page.

---
A Little About Myself:
Biography
I have lived in Hawaii, and Ohio, but I have spent most of my life in Colorado. I graduated from Silver State Baptist School in 1994. Now, I am a Computer Science and Engineering major at LeTourneau University in Longview, Texas. At school, I used to live in a dorm on a floor called Deck3 before they converted our dorm to a women's dorm. Now I live in an on-campus apartment. I'm planning to graduate in December 1999. I'll be LeTourneau's last graduating class before the year 2000. This might make things very interesting because of computer-related year 2000 problems.


Interests
I am interested in so many things, I have a hard time keeping up with all of them. Probably, my main interest is computers. (This only makes sense since I'm a computer science major.) I enjoy programming, computer games, the internet, and e-mail. I also am into music. I play the piano and the recorder. I like to listen to Classical, Christian Contemporary, and movie soundtracks. Other interests include racquetball, ham radio (kb0joz), writing, and Star Trek.
Recent News
8-13-1999

Hmmm. It seems that even though Tripod says that they are requiring updates every 30 days, they aren't really enforcing it, so don't be expecting monthly updates. Also, I updated the Poetry Page to include a link to DOWNfALL

3-2-1999

Well, you are probably wondering asking yourself by now, "Why in the world did Mike decide to update his web page? I mean, all of those cobwebs really gave it style." Actually, I probably wouldn't be doing this except for the fact that Tripod is now requiring that it's members update their web pages every 30 days. Grrrrr. :( Well, that will hopefully mean that I'll have some motivation to actually update this page once in a while.

---
Mike's Links:
Other Stuff at My Site:
Mike's Friends Photo Album
Mike's Page of Poetry and Stuff
Cool Stuff:
DOWNfALL
CLOCKWISECITY
Digital Trouble
Friends From LeTourneau:
Deck3 Member Homepages:
Ethan Cooper
Ken Johnson
Andrew Keller
Jeff Little
Ben Thornton
Randy Walker
Josh Wilson
Other Friends:
Walter Greenwood
Other Links:
The Official Deck3 Home Page
LeTourneau University
---
If you have any questions, comments or especially suggestions, please send them to uchidam@juno.com. Thank you very much for taking the time to visit my page. This page is constantly changing, so come back again soon!
Coming Soon (or Maybe Not):
Mike's Family Photo Album
Mike's Nickname List
Mike's Poetry/Stories
Mike's Resume
This page was created with Super NoteTab (Mike's favorite HTML editor.)
Copyright (c) Mike Uchida 1999